THE LEATHER WORKSHOP
JOMAN
The Components of the Leather-Workshop JOMAN
are Manuela Bruno and José Sanz,
Leather Crafters how are working with leather
since 1987, all their work is elaborate
with vegetal tanned leathers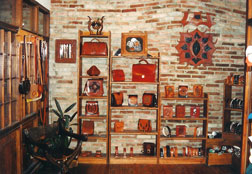 The philosophy of work is always, to obtain the best results from the used materials; working all the time with only manual tecnics, and so give all of the items form, color and function.

The workshop of JOMAN has the experience of a exponenctial step when in 1992 they establish relacionship with leatherworkers in Switzerland, which serve to bild bridges to other letherworkers from Germany, Holand and other countrys of the world,
event wich encourages and enrichs the knowledges of the workshop.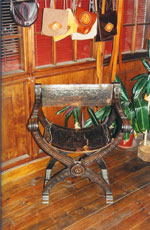 José Sanz y Manuela Bruno participate in national and international events, in 1998 in the exhibition celebrated in Winterthur, Switzerland; and in 2000 in Walwijk, Holand; where they take contact with leather-workers and -artists of all the world.